Venezuelan President Nicolas Maduro came 5-6 December to Moscow to convince his Russian colleague, President of Russian Federation Vladimir Putin, to start using Petro cryptocurrency in bilateral trade. Maduro plans to make such provision as an obligatory starting from the March of 2019 year. Russia buys some volumes of Venezuelan oil since there is routine thing that companies buy various sorts of oil for to mix them to achieve the demanded octane figure while producing various sorts of gas.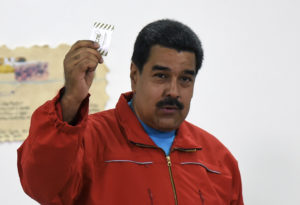 Venezuela along the Canada has the cheapest sorts of oil in the world. In case Venezuelan-Russian relations another reason plays a role: the necessity to pay out Russian loan that was extended in 2016 year
Russian state company Rosneft cooperates with the largest oil producer in Venezuela, state PDVSA. Last year both parties negotiated to the decision to boost export of oil extracted by PDVSA to Rosneft, up to 70,000 barrels a day as a payment for $1,5 billion Russian loan.
The new Moscow meeting produced an agreement to prolong again the terms of loan and it seems that Caracas has enabled to secure additional credit money flow from Russia as well. This may lead the necessity to increase oil export from Venezuela to Russia. Meanwhile Maduro is going to sell all Venezuelan oil in 2019 year only for Petros.