Follow @coininfolinecom
Cryptocurrency exchange @binance has announced that it's launching Venus, a project that will develop "localized" stablecoins around the world. https://t.co/wA54sbCdHV
Binance is launching its own 'Libra' to rival Facebook on a regional level https://t.co/DOpJxiwX1d
#CT_index Provided by Cointelegraph
BTC - https://t.co/lwzOurBjpP
ETH - https://t.co/twYLJi6vEE
Twitter feed video.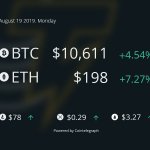 BREAKING: @Binance reveals it will launch their own project similar to Facebook's Libra called 'Venus'
You can now experiment with Facebook's Libra testnet using ZenGo crypto wallet https://t.co/IfW1XdXp9l
CGEX, a Malta-based exchange opened by South Korea's @CoinoneOfficial less than a year ago, is shutting down. https://t.co/AuxB6i7FGQ
JUST IN: Spanish megabank @bancosantander is building a payment corridor that will let customers in Latin America send money to the U.S. instantly via a mobile app that uses @Ripple's technology.

Report by @Nate_DiCamillo

https://t.co/y9GTb7cbcI
Trump's Currency War With China Could Be Bitcoin's Do-or-Die Moment https://t.co/aOoDdJpEeE via @CoinDesk
An annual report from @Fidelity released last month shows its charitable arm is seeing strong demand for #crypto giving, with $BTC and $ETH leading the way

Report by @DanielGKuhn
https://t.co/wICoVODtWL
Here's a CEO that knows how to run a business and plan for the future. This is really a fantastic model. https://t.co/iy12tXi3vq
Load More...