Follow @coininfolinecom
A new DEX from @KomodoPlatform is out, allowing users to use atomic swaps for fast token swaps. @Chainlink integration is also a possibility, though not set in stone. https://t.co/stfbbTIa4z
Although institutional involvement in crypto is very present, @BrockPierce said that it could indeed be overrated. Why does he think this? https://t.co/Uf3yNxKegM
Whatever the case may be, the sky-high #BTC prices have caused old-school mining whales to wake bitcoins from slumber. https://t.co/8Yxj3QmMPT
"In a multi-asset portfolio, investors can likely add up to 1% of their allocation to #cryptocurrencies," says JPMorgan. #bitcoin #btc https://t.co/nryqk7ocD5
What are you waiting for? Submit your wild crypto story today for a chance to win part of the $20K prize pool in our @Tradelize contest!

How to win? Go to the link, submit your story, and hashtag it with #TradelizeContest on the site: https://t.co/H6IyXkpjpB
Twitter feed video.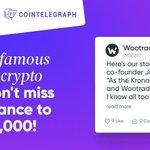 This week a resolution to the @Tether_to lawsuit was announced. They settled with the New York Attorney General regarding the status of its reserves. Is the FUD finally over? https://t.co/jisMxqx6w2
No free riders! Just before launching a novel moneymaking protocol, @InverseFinance seized governance tokens from "dead weight" community members — possibly a first in the history of DAO governance. @Blockanalia reports https://t.co/ihPUj19CKa
"Right now it is an asset class and I suppose in the way modern art is, but it doesn't necessarily mean that it is in the mainstream. Central bankers will never ever allow that." https://t.co/y3F7f5Dcqh
Reef Finance, Bridge Mutual and Morpheus Network have caught investor's attention as the need for DeFi insurance, cheaper transaction costs and cross-chain interoperability increases. https://t.co/cNhgKhANYU
Grayscale Ethereum Trust began to trade at a discount on Thursday.

Report via @Nate_DiCamillo

https://t.co/UbVrpRMqZt
Load More...