Litecoin is usually considered as slow mover among cryptocurrenicies' top. The 5-th of May has shown that LTC has got a strength and was up 14,58%. The Litecoin rose from $158 to $181,05 during 24-hour time span.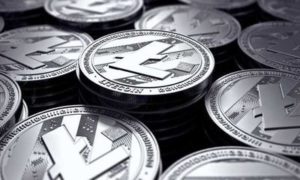 The cryptocurrency is still lagging behind the all the time high reached at $375,29 by 19-th of December last year. 7 days ago LTC price was only $148 so one can see a rise by $33,05 — huge gain measured by percentage, 18,25%.
What's the reason of such upheaval? We see the overall rise of the market whose capitalization has touched $468,5 billion level. But Litecoin is the winner among top-25 leaving behind the rise of Bitcoin Cash, VeChain, and Aeternity. It can be explained the open policy the LTC founder Charlie Lee.
The rumors flooded the market that Charlie Lee would leave the command bridge for the sake of more
decentralization. These rumors were galvanized by Mr. Lee himself when he's kicked off the poll at his official Twitter page when he asked: "How is my performance leading Litecoin adoption and development?"
The final result shows that there is no unanimously approval of Lee's leadership: from 33916 respondents 31% considered Lee as a "good" leader, 25% believed that they saw excellent guidance. Almost the same figure (23%) for the leadership valuation was as "fair". At last, each fifth person (21%) disliked Charlie Lee's ruling. Maybe this figure has thickened because of epic fail that has occurred with a project of LitePay cards many LTC supporters had dreamed on.
Meanwhile LTC has got several consolation prizes: social network Reddit that is critical for crypto community has added Litecoin as a measure of payment for its premium services. LTC is widely accepted at the Australian Brisbane airport area. Alza, a Czech store, has adopted LTC as a payment option. At last but not at least crypto-debit card provider Wirex has relived the some LTS admirers hope and has added Litecoin support for its financial services.
Most of trade volume occurs at the Hong Kong exchange OKEx that accounts for 30% of the total LTC turnover. Daily trade volume was not fascinating and was below psychological important level of $1 billion and stood for $795,8 million. LTC holds 6-th place among crypto currencies, its capitalization has increased by 10% over the past 24 hours and reached $10 billion trying to narrow the gap to the $15 billion capitalization EOS has achieved.