Overstock CEO Patrick Byrne spoke about cryptocurrencies future to Naomi Brockwell, crypto Youtuber. His opinion is important since his platform was one of the "early birds" in crypto world when it started accepting Bitcoin as mean of payment in e-commerce just challenging Amazon's way of financial communications with clients. Looking back, Byrne feels himself enthusiastically about his decision regarding Bitcoin.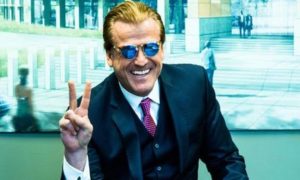 He believes he was right and he sees a bright future for cryptocurrencies as means of payment. He argues, that "people turn to it where they collapse, like Venezuela or Cyprus or Syria, something like that. When people start getting into it is when their own financial systems collapse. So yes, given that I think the entire modern financial system is a big Keynesian, magic money tree Ponzi scheme, I do expect that the day will come when people turn to crypto."
He expect that cryptocurrency became a prime method of financial interactions between people and companies but he stresses that Bitcoin is not guaranteed to hold the leading role in this transformation: "Whether bitcoin is the one, whether bitcoin has solved its speed problems or it's another cryptocurrency, only time will tell." Byrne sees a big chances for Ethereum and Bitcoin Cash. Bitcoin Cash has skyrocketed in the beginning of November due to the its listing at US largest crypto exchange Coinbase.
Meanwhile some commentators have criticized Byrne's bias to hope that crurrent US government is interesting to promote cryptocurrencies phenomena. Some of them believe that at least this stance is naive.