Seoul, South Korea [12th | 13th July'18]
As part of WBS World Tour 2018, GBF is in process of building deep integration with 50+ leading & emerging markets in the space of Blockchain, DLT & tokenomics space. For the same, GBF is hosting Korea Blockchain Summit [KBS] 2018- GBF's Flagship Cluster Event for Korea Region including Japan, Malaysia, and Hong Kong as part of World Blockchain Summit 2018.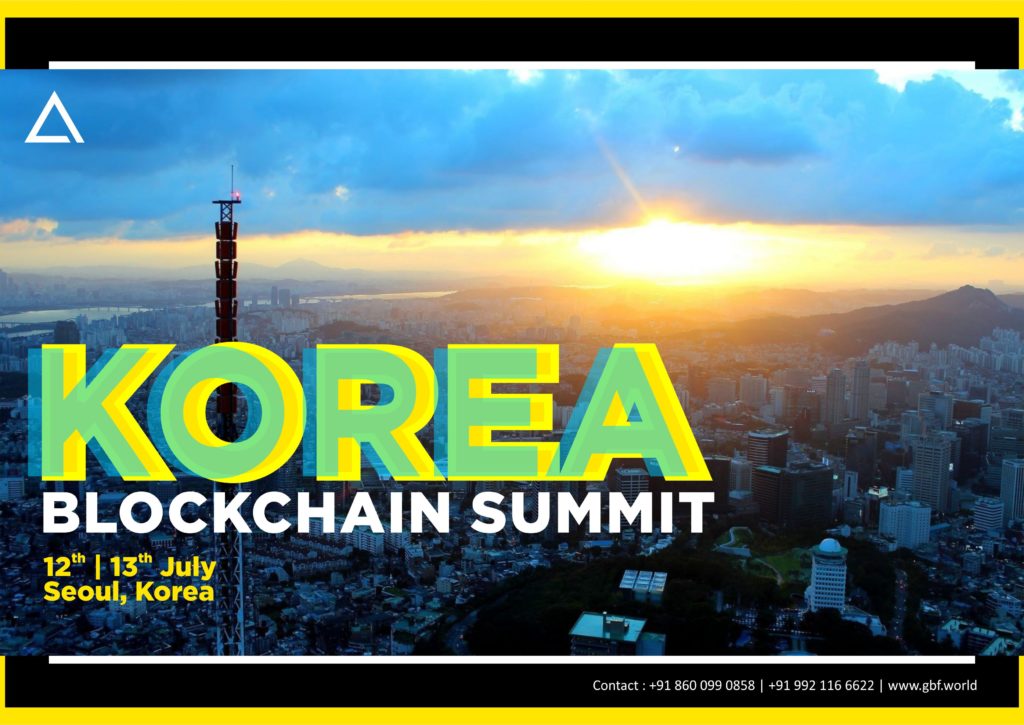 KOREA BLOCKCHAIN SUMMIT 2018 HIGHLIGHTS
Key Note Sessions
Fire Side Chat & Panel Discussions
Use Cases: Demonstrations
Blockchain Project Launch
Business Plan Competition
Government Meet & Deliberations
Networking Luncheon
Recognition & Awards Experience Zone – Startups
Paper Presentations Expert Sessions & Workshops
Blockchain Meet 20+ Sectors
Blockchain Academia Meet
Investors Meet
Dinner & Cocktail
ICO & Product Launch
Future of Tokenomy
INDUSTRIES REPRESENTED AT KBS 2018
Aviation
Govtech
Telecom
Education
Healthtech
Banking Financial Oil and Gas
Services and Insurance
Travel & Tourism
Supply Chain
Fintech Public Distribution
Logistics
Infrastructure & Real Estate
Shipping
… And Many More
About GBF:
GBF is a leading Non-for-Profit social impact organization established with the global vision to build a strong sustainable Blockchain, DLT & tokenomic community through international cooperation. We are delighted to inform you that World Blockchain Summit 2018 being our spearhead initiative, we are officially organizing World Blockchain Summit 2018 from 1st to 5th October 2018 in India.
More information is available at: https://www.gbf.world/kbs