The famous and controversial entrepreneur John McAfee is revealed to be a big fun of Bitcoin Private (BTCP). In the youtube clip appeared 12-th of May and featuring John McAfee one can see starting from 7:45 minute mark that the entrepreneur proclaims Bitcoin Private as "best Bitcoin fork". Some commentators started thinking that McAfee has made this BTCP promotion since he is sold on money. At the same time one can ask where BTCP team could draw funds to fuel such high-profiled PR campaign if they have no marketing budget at all? The BTCP is fully decentralized altcoin that has no ICO. This lack of financing may explain why Bitcoin Private still has no listing at the Binance exchange.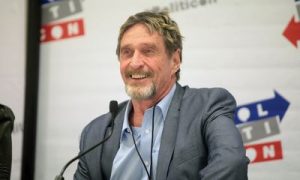 BTCP has specific trait as "super private" altcoin. The story of this altcoin is interesting since Bitcoin has given a way for breeding of a number of Bitcoin-related cryptocurrencies. The first of August last year became birthday for Bitcoin Cash (BCH). Bitcoin Gold (BTG) became on mining pipeline at the 12-th of October last year. 24-th of November became the starting point for Bitcoin Diamond (BCD). At the beginning of this year crypto community has greeted World Bitcoin (WBTC) and Bitcoin Candy (CDY). One of the weirdest Bitcoin-related currency, at least as a name, is Bitcoiin. He has got media support from famous Hollywood actor Steven Seagal. After ICO of Bitcoiin Mr. Seagal and the "founders" of Bitcoiin are reportedly to have abandoned this project since the end of March this year. Some pundits has compared Bitcoiin with one another "Ponzi scheme", the statement Bitcoiin team has fiercely rejected.
As far as it concerns BTCP the appearance on Bitcoin Private front line a media person resembles the situation with Bitcoiin pomotion. One may hope that BTCP is not another scam. Meanwhile BTCP has come to a rise as whole cryptoccurrencies market recovers after downward trend of 11-12 of May. BTCP ranked as 46-th spot has gained 6,59%, to $25,36.