Billionaire bitcoin enthusiast Michael Novogratz, founder and CEO of Galaxy Digital Capital Management, says every investor should have 1% to 2% of their portfolio in cryptocurrency. Not to do so, he said CNN, sounds "almost irresponsible." It seems that famous crypto bull means 1% leveraged 100x. As for those average US citizen who has any investments outside of 401k retirement plans (which can't be used to buy crypto), 1% is small.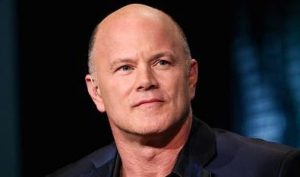 For someone with a $10,000 brokerage account, it would mean putting $100 into crypto. There are various methods to calculate net worth (some don't include home equity), and the term 'portfolio' is also defined in various ways – sometimes people mean one's entire net worth, other times it just means your stocks and bonds and other more liquid investments, sometimes it just means your investments in a certain asset class. Anyway, his point is obvious: 1% in crypto could give an investor more returns than 10% in stocks within 5 years.
Meanwhile, Bitcoin has landed today to $8546 losing 0,68% for last 24-hour. It's obvious that cryptocurrency has drastically reduced the rate of decline from 11-th of May when almost crypoassets were in "red figures" besides Augur altcoin. The total market capitalization has gained $35 billion to $386 billion and the share of BTC has improved from 35% low to 37,6% but there is still less local week record of 41,5% that was highlighted at the beginning of the week.
The crypto market has still huge unexplored potential. There are 7,7 billion people on the Earth, and there are only about 21 million bitcoin wallets that exist. That means only less 0,3% of the world's population owns Bitcoin right now. So the market waits for mass adoption.