Accomplished achievements the Ripple (XRP) team has reached stipulate that XRP must fly to the Moon. Ripple boasts of "RippleNet @NBKPage! They're the first bank in Kuwait to use #xCurrent to provide instant cross-border payments for their customers". Actually xCurrent is step by step replacing SWIFT messaging in banking sphere. xCurrent is based on ILP (Interledger Protocol) standard, it can use XRP, or any other currency.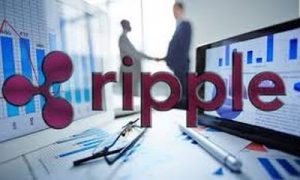 The number of xRapid customers is growing too. Payment remittance providers like Western Union and MoneyGram are testing use of xRapid, which uses XRP for sourcing liquidity. The fresh example of adoption is UK Currencies Direct, a foreign exchange (FX) brokerage, that has successfully tested ILP xRapid and piloted international payment over Ripple's xRapid platform using XRP.
As far for payments of corporations xVia platform of Ripple is eligible and it's working in any currency, including XRP. XRP team undertakes meetups in various parts of EU and by this activity may compete with the promotion Bitcoin Cash community pushes forward. XRP team is also considering voting for new Ripple symbol: voting is set to start on June 1st and last for one week.
Where is the tipping point for XRP? Maybe there is now? Maybe. But there are two challenges ahead. One of them is improving XRP liquidity. More exchanges and more vast use of XRP are necessary. This improves day from day. For example, the Naga wallet has added support for Ripple.
The second one is about regulation. The regulators have a chance to examine and react to XRP's use in cross-border payments and instill the confidence into banks applying technological decisions of Ripple. It's necessary for to see greater adoption xCurrent, xRapid and xVia platforms. Brad Garlinghouse, the CEO of Ripple, has stated that "I think the same thing will happen in banking. People who are invested in us love xCurrent but they're not sure about xRapid… I think it's just the beginning."
It's worth to mention that 30-th of May the crypto exchange Coinome has listed XRP. Coinome is an Indian-based exchange owned and operated by IndiaIdeas.com Ltd (BillDesk) and it's interesting that there is no chance for now to track XRP volumes at this exchange since it data is not included into CoinMarketCap statistics.
Meanwhile, XRP is almost in free fall. It's price now is $0,5889 that is far cry from maximum $3,84 achieved by the January 4th this year.