One of the creators of Ethereum, Vitalik Buterin, has been awarded an honorary doctorate for his work on blockchain technology. His cryptocurrency feels not so good. This November ETH lost its second spot it held for many months as far one talks about crypto capitalization. The place behind Bitcoin was immediately filled by XRP, the controversial token of Ripple foundation being considered by many analysts as securities. Ethereum was also put on fire on allegations that Buterin has made too centralized cryptocurrency breaking from the basic tenets of Satoshi Nakamoto about decentralization. ETH has plummeted 92.05% from its peak demonstrated at 13th of January current year when it hit $1,432,88. The market capitalization has shed a lot plummeting from 135.5 to 11.8 billion, so it lost 91.29%.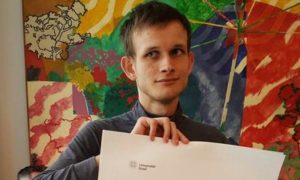 This grim development doesn't deter the University of Basel, Faculty of Business and Economics, award Buterin a status of honorary doctor to 24 old guy for his work on blockchain development. Vitalik Buterin was born in Kolomna, Moscow region of Russia and still holds dual citizenship, Russian and Canadian. The faculty states that it honors an "exceptionally creative and innovative thinker who has played a decisive role in shaping the digital revolution of our time."
Prof. Aleksander Berentsen, dean of the business faculty, added that "Vitalik's blockchain innovations are game changing. He has blazed a trail for science and industry to follow and work together." Buterin answered back as "I'm honored to have received an honorary doctorate from the University of Basel the oldest University of Switzerland. Switzerland is well known for its innovative blockchain research." Berentsen has celebrated this event launching in Twitter new hashtag #DrButerin . The fresh doctor has given a speech about Byzantine Generals' Problem (BGP) that is a classic problem faced by any distributed computer system network.