The number of crypto ATMs is going to reach 4,000 machines in the nearest future. There are 3,989 cryptocurrencies ATM at 11th of November compared with just 3,000 at the end of May this year. The pace of development is about 6 machines per day. These machines that give an opportunity to purchase and sell various cryptocurrencies, not only Bitcoin and other crypto from top-10, are deployed in 75 countries. There are 40 companies that produce such machines and 515 operators.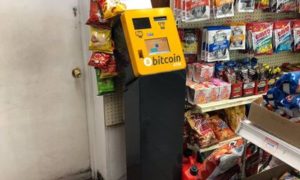 Crypto ATMs play an important role in stirring up crypto mass adoption. The North America accounts for the largest part of such globally deployed crypto machines, 71,3%. Almost 25% are stationed in the key European cities. Meanwhile Asia where Japan and South Korea are members of top-3 countries by the crypto volume still lags behind USA and Canada, this region houses only 2,56% of total number of crypto ATMs. Oceania, South America, and Africa together account for less figure of deployed machines.
The new trend is that operators try supporting not only Bitcoin but altcoins as well: more than 60% of crypto ATMs do that. Litecoin is the most popular crypto option behind Bitcoin option that exists only at any machine. Down the rankings there are Ethereum and Bitcoin Cash. The support for Dash, Monero, Dogecoin, and ZCash shows sign of the rise. About 40% of all crypto ATMs allow users not only buy but sell cryptocurrencies as well. There are three main producers of such machines – Genesis Coin, General Bytes and Lamassu.