Event Date: – 20th September 2018
Event City: – Dubai – United Arab Emirates
Event Timing: – 08:30 to 18:30
Event URL:– http://bit.ly/2Jp3oPA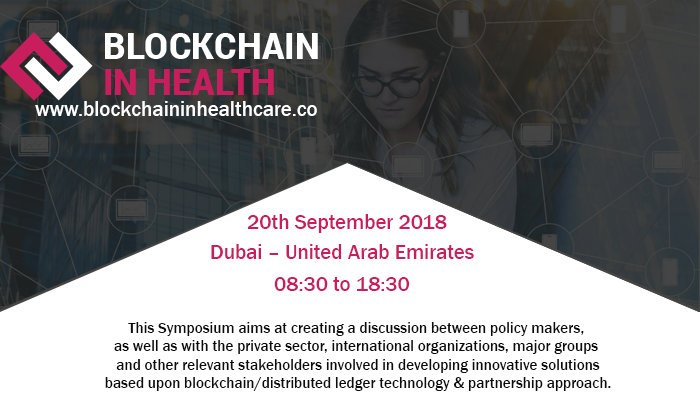 Overview: – The demand to bring about revolutionary and evolutionary, blockchain technology in health care has arrived to make the industry an abundant in the 21st century, blockchain is causing a hype and optimism that has rarely been seen in the history of technology as unmapped territory awaiting to explore the blockchain innovation, the opportunity to the next level of revolution to provide a new potential way to improve the intelligence of healthcare system smarter and to understand the best of the best in blockchain, technology is transforming and collaborating to modernize the healthcare realm, emerging blockchain solutions.
We are bringing together the brightest minds in healthcare innovation to reimagine how this new technology will streamline and transform everything from payments and medical records to processing and analytics. Various concepts for such tools are under discussion and will continue to be explored within the context of, and in alignment with, the newly refined goals.
Bringing you closer to the people, projects and perspectives behind this digital revolution, Network with the most influential people in the global Blockchain industry, Meet prospective users and investors for your company, Meet the smartest Blockchain technologists and developers and potentially hire them for your team, Find lucrative investment opportunities among start-ups presenting at the event, Meet and interact with regulatory heads and governments, Network with like-minded people who want a trust less and transparent world.
please find the social media links below.
Facebook : https://www.facebook.com/events/723555171308781/
Twitter : https://twitter.com/BIHSD2018
LinkedIn : https://www.linkedin.com/showcase/blockchain-in-healthcare-symposium-dubai-2018/
Reddit : http://bit.ly/2KQOqaN