The most famous cryptocurrency has underwent huge loss during 11-th of May trade. In midday (UTC 11:25) CoinMarketCap shows $8707 rate for BTC, the daily decrease reached 6,91%. But 20 minutes later one can see $8741 level, that diminished daily drop to 6,54%. That price movement shows that BTC has no irreversible downward trend. There is no big driving force that led BTC to go under $9000 level. The day looks as usual and it has as pro-Bitcoin and pro-altcoins news as negative information.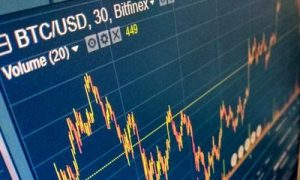 For example of the last is that South Korean prosecutors has conducted search and seizure against the nation's largest cryptocurrency exchange – Upbit. Unfortunately Upbit is suspected of fraud. The company is suspected of transferring customer funds from their cryptocurrency exchange account to a representative or executive account.
As for the whole crypto market it is totally red now and Tether is going green edging 0,45% up. Meanwhile, Fundstrat Global Advisors, the research firm cited for its bullish Bitcoin bets, released forecasts that Bitcoin could propel to $36,000 due to improvements in mining, by late 2019. As the company forecasts , "Bottom line: We believe that the current path of hash power growth supports a BTC price of about $36,000 by 2019 year end with a $20,000 – $64,000 range". Air Paul, CIO of BlockTower Capital is a little bit pessimistic : "I have a lot of respect for Fundstrat and think this is worth looking at. But…I think the causation is extremely weak. Hash power follows price much, much, more than the other way around". But for every skeptic view one may find positive one. "Bitcoin is the most secure place to put your money", Tim Draper argues in his interview for CNBC.