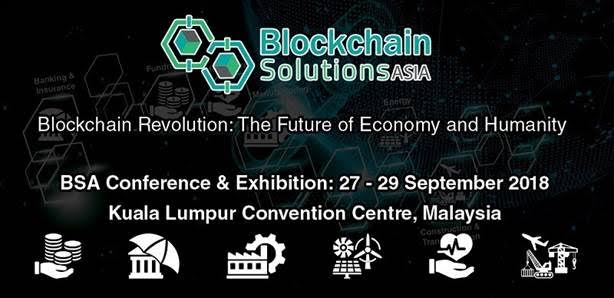 Is Blockchain Revolution the 2nd Generation of The Internet?
Is Blockchain Technology part of the 4th industrial revolution?
How would blockchains change Asia, and the rest-of-the-world?
How could blockchain alter the future of global economy and humanity?
Technological innovations such as robotics, artificial intelligence, big data, cloud technology, Internet of Things, new materials, augmented reality, nanotechnology, biotechnology and the mobile economy have established themselves very quickly over the last few years and have now became the key elements of the commercial and social economy.
Blockchain is another most promising disruptive technology of the future. The global blockchain market size is expected to grow from USD 411.5 million in 2017 to USD 7,683.7 million by 2022, at a Compound Annual Growth Rate (CAGR) of 79.6%, with 36 sectors hopping onto the blockchain bandwagon.
The Blockchain Solution Asia 2018 (BSA2018) is set to provide the answers for organizations to better understand the impact of Blockchain Revolution and its technological advances on their business models and operating processes in order for them to adapt themselves to this new world technology-led order.
Blockchain Revolution: The Future of Economy and Humanity
Deliberations:
•Blockchain Explained: Industry Application, Regulatory Framework and Risk Assessment
•Blockchain Infrastructure and Development
•Blockchain – Enabled Funding and Financing System: A Paradigm Shift In Capital Raising And Project Financing
•A Game Changer for The Banking and Insurance Industry?
•Blockchain Technology In The Manufacturing Sector
•The Driver of Transformational Change In The Energy Sector
•Revolutionizing The Healthcare Sector
•The Defining Factor of Smart Cities For Building And Transportation Sectors
WHY ATTEND?
•Hear and learn from exclusive visionary blockchain experts on industrial-based applications & enterprise implementation of blockchain solutions
•Engage with the industry's leading solution providers unveiling the latest blockchain tech
•Get inspired by quality content that offers cutting edge 'how-to' approach in deploying blockchain solutions across 6-focused industries
•Exceptional opportunities to exchange insights with peers and deep-dive into topics through hive of events
•Network and connect with industry's most progressive professionals across industries like financial services, manufacturing, energy, healthcare, construction and transportation sectors
6 FEATURED SYMPOSIUMS
FS1 – Blockchain – Enabled Funding and Financing System
FS2 – Blockchain – the Game Changer for The Banking and Insurance
FS3 – Blockchain Technology In The Manufacturing Sector
FS4 – Blockchain – The Driver of Transformational Change In The Energy Sector
FS5 – Revolutionizing The Healthcare Sector
FS6 – Blockchain as The Defining Factor of Smart Cities for Building and Transportation
Click here to download the conference brochure